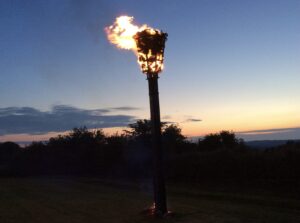 Lovely to see such a good turn out for this evenings inaugural Jubilee event at the Dallington Recreation ground.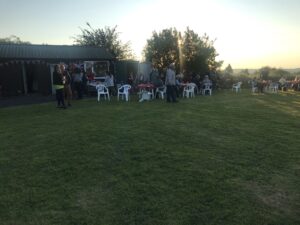 Children playing on the field, lots of people enjoying the barbecue food and drink.
The beacon was lit a bit earlier than scheduled as people were beginning to get cold but was still roaring away happily at 9.45 when the national chain of beacons lit up.  Thanks to everyone involved in organising the event, bringing and cooking food & drink, and lighting the beacon .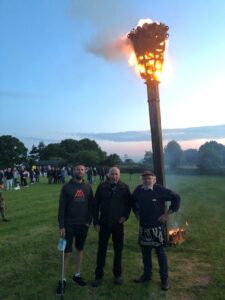 And don't forget tomorrow (Friday 3rd) bellringing at 3 pm, then on Saturday the community library cafe will have an extended opening from 10-4 at the Old School village hall in The Street – bacon sandwiches, cakes and refreshments all day, an exhibition of photographs of Dallington celebrations and events from the Coronation onwards, and a chance to see the newly refurbished Billiard room and take part in a lighthearted contest  – how many balls can you pot in 5 minutes?