We are finally reopening! After many months of waiting for national restrictions to be lifted,  we can finally announce (fingers crossed) that Dallington Old School Village Hall will re-open for bookings from  Monday July 19th. (All booking enquiries to Karen Gillingham on 01435 831563.)
In fact the rules have allowed us to host some permitted staff training events by our local residential home Carricks Brook during the past year, and the Parish Council and Villagers Group have recently met in the hall while observing current restrictions.
But all being well, we can now accept new bookings and restart our regular activities.  Some dates are included below, but please do subscribe to the village website at https://dallington.org.uk/ to make sure you receive an email alert for all new announcements.
During lockdown, the Management Committee has undertaken a substantial amount of work behind the scenes, including renewal of electrical and fire safety systems. The Billiard Room refurbishment is ongoing and will reopen n the autumn.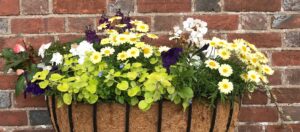 We have also smartened up the exterior, most recently with new hanging baskets thanks to Wendy Miers, Bobbie Steel and Nick Harding.
We recognise that some people may be feeling slightly nervous about starting to go back into social spaces, so you are very welcome (though not required) to continue to wear a face covering. The hall also conforms with government "Covid-safe" guidelines, hand sanitiser will be available on entry and our table layout will make it easy to maintain social distancing if you prefer.
Forthcoming events:
Villagers Group – 3rd Thursday each month
Thursday 15th July 2-4pm Felt workshop led by Frances Gorringe. Come along and turn pure wool into a felt picture or flower. All materials provided.  Free to members; £3 to non-members to include materials and refreshments.
Thursday 19th August Evening talk by Laura Vakil, whose mother was born in the village. Further details will be announced nearer the time.
Library Café – Monday afternoons from 2-4pm and first Saturday of the month 10am-12pm
We will re-open the weekly library cafe from 2-4pm on Monday 19th July and every Monday after that.  The first of the monthly Saturday morning sessions will take place from 10am-12pm on 7th August.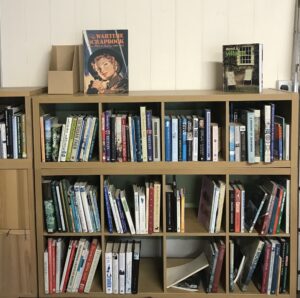 We have completely refreshed the selection of books including children's books, thanks to some generous donations; we also have some new bookcases to house them. As before, you can borrow books freely, bring them back whenever you are ready or make a small donation (or swap with your own unwanted books if you decide to keep them. As always, there will be refreshments available and a chance to sit and chat with neighbours or use the free wi-fi in the hall.
Do call in and take a look.  As well as returning groups, we hope some new ones will emerge to make full use of this historic community building. We look forward to seeing you soon .
Also in the hall:
Friday 6th August  Evening talk Clive Mayhew Dallington Woods at War (more details to be posted soon)