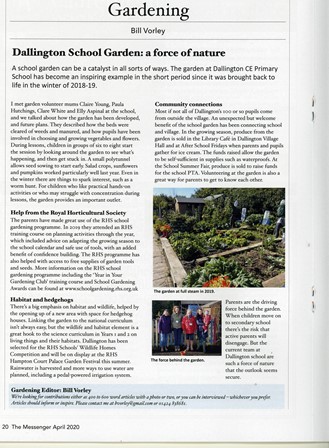 Many of you will have received a free copy of the April issue of the Messenger magazine, which had a strong Dallington theme this month.
In case you missed it, here is a screenshot of one of the articles,  about the Dallington School Vegetable Garden.
Dallington is the only village served by both the Parish Magazine and the Messenger, and many people subscribe to both publications as they are very good value while offering quite different content.
Here is a message from the Editor:
We gave you a complimentary copy of The Messenger magazine as the April issue had a Dallington theme. We hope you enjoyed it and many thanks to everyone who helped me put it together. We are also going to deliver the May issue to you to try and entice you to subscribe!
We produce 12 issues a year – delivered to your door or collected from Dallington Post Office – for an annual subscription of £10. If you would like to continue to receive The Messenger please contact me, the Editor, m.willisfleming@gmail.com 01424 838764 or Pauline Ridley 01435 830152
Because of the current social distancing we will not be collecting subscriptions, either by cash or cheque, for the time being. The magazine will continue to be produced, and delivered by posting through your door, unless circumstances change further. We will be asking for your annual subscription later in the year when it is safe to do so.
Melanie Willis Fleming
Editor
The Messenger