(Message forwarded from High Weald AONB Newsletter)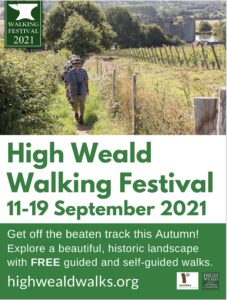 Booking is now live for the High Weald Walking Festival. Choose from more than 30 FREE guided walks across the High Weald Area of Outstanding Beauty, running from Saturday 11- Sunday 19 September 2021.
How to book
You can now view the walking programme on the Festival website. If you like the look of a particular walk, just click 'More info & book' to go through and reserve your space. The process is quick, easy and – most importantly – every walk is free.