We still have no end in sight and just have to carry on with our new "normal," but we have glorious weather and there is a soft greening on our trees and hedgerows.
Safe websites for information
Click on this link for coronavirus information from the NHS
Click on this link for coronavirus information from GOV.UK
Click on this link for coronavirus information from Rother District Council
Click on this link for coronavirus information from East Sussex County Council
Both the Rother District Council and East Sussex County Council websites have Community Support sections.
Doctors
If you need to see or contact your GP during this emergency, please check their website or phone first.  I've added links to the surgeries I know about in Battle and Heathfield.
Click on this link for the Martins Oak Surgery (Battle)
Click on this link for the Oldwood Surgery (Battle)
Click on this link for the Heathfield Surgery (Heathfield)
Dentists
Its seems that most dental surgeries are completely closed during this emergency.  There is some information on the NHS website (link below).
Click on this link for advice on dental issues from the NHS
Vets
Like our GPS, vets are only dealing with emergencies, although I understand they are still doing the final jabs for puppies and kittens.  Check their website and phone first.
The Best of Us
It goes without saying that our heartfelt thanks go to all NHS workers and every one of those essential workers who are keeping our lives as normal as possible.  I would also like to say a massive Thank You to those Dalligton residents who have volunteered to pick up essential supplies/prescriptions for those who must not leave their homes.  A resident contacted me about helping our super Postmen by leaving our gates unlatched, this is a great idea – but obviously not if you have small children or pets!
Scams
Be extra vigilant at this time – just put the phone down or delete the email.  There's some good advice on the Age UK website, the link is below.
Click on this link for how to avoid scammers from Age UK
Shopping
1.  Sainsburys (all Sainsbury shops)
Monday to Saturday 0730-0800 priority for NHS workers (will need ID)
Mondays, Wednesdays, Fridays 0800-0900 priority for the elderly, keyworkers and the disabled.
2. Co-op (Heathfield and Battle)
Monday to Friday 0800-0900 priority for keyworkers, the elderly and disabled.
3. Waitrose (Heathfield)
Monday to Saturday 0700-1000, first opening hour is priority for keyworkers, the elderly and disabled.  They are also giving NHS workers priority at the checkouts.
4. Local shops (ring first)
Netherfield Stores and Post Office – 01424 838589
Rushlake Green Village Stores – 01435 830381
The Old Orchard Village Shop – 07969 778985
Zero Heathfield – 07391 490098
Eggs to Apples – 01580 860566
Venison and Lamb meat packs – 07780 707006
The Adventures of Alfie
I'm afraid Alfie is in disgrace.  We went to our field yesterday and as usual he was just trundling around.  He managed to put up a pheasant and I don't know who was more frightened – the pheasant or Alfie as his natural prey is a small beetle.  I took my eyes off him for a moment, looked around and the Little Grotbag was on his back rolling in fox poo!  I'm not normally precious, but I cannot live with with the smell of fox poo in the house.  So it was straight home and in the shower for him.  He's nice and clean now, but is beginning to look like a failed attempt at Build a Bear.  We haven't had the great nail clipping project yet, but it will be very soon.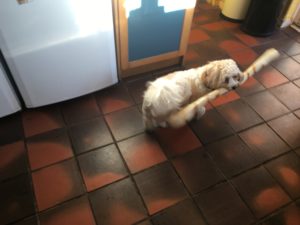 Last Christmas my son bought Alfie the biggest dog chew he could find.  Alfie couldn't believe his eyes when he saw it.  He walked around it for a few minutes and you could almost hear his little doggie brain thinking – "is it really all for me?"  He managed to pick it up, tried to get it through the door to the kitchen and had to work out for about 10 minutes just how to do it.  That hurdle overcome, he then tried to get it up the stairs, all we could hear for most of Christmas morning was the crashing and banging of all the failed attempts.  It is now in three pieces and he still guards it vigorously against the BAD KITTENS!
It's going to be a very different Easter for all of us, with Christmas, one of the turning points of the year.  I'm not religious, but understand the importance of this time of year to those of all faiths – it is the most important celebration of the Christian year, Passover for those of the Jewish faith and Ramadan starts in late April.  It is so sad that our churches, synagogues, mosques and temples are closed.
I can only wish you all a Happy Easter, staying safe and looking after one another.
Irene (Parish Clerk)