Posted on behalf of Doug Edworthy (Tree Champion, Dallington and Brighton): We may not be able to restart group walks for a while due to COVID-19, so I've started putting together self-guided walks in the forest for people to use at their leisure. This is the first of (hopefully) many so I would really value your feedback on content, presentation and whether you found it helpful in guiding your walk.
Dallington Forest Walk No. 1 Ancient Forest Ghyll, Hollow Ways and the PoW Tree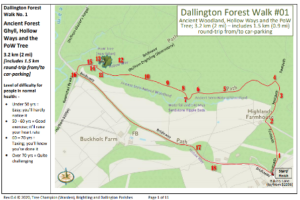 On this walk you will experience one of Dallington Forest's ancient woodland ghylls full of majestic veteran Beech trees, prehistoric rippled sandstone beds and the Prisoner of War tree, and also hollow ways formed by the feet of many millennia of travellers.
In Spring the ancient woodland ghyll is full of the sight and scent of stunningly beautiful bluebells and ransoms (wild garlic).  The starting and finishing point is the end of the metalled surface of Bakers Lane, Dallington. This is also the junction of three footpaths and a bridleway. Unfortunately, there is no car park here or in Dallington Forest and the nearest public parking is the lay-by on the B2096 at Wood Corner.
Download the full walk with map and descriptions:   Dallington Forest Walk 1
Length: 3.2 km (2 mi) [includes 1.5 km round-trip from/to car-parking]
Level of difficulty for people in normal health:
Under 50 yrs = Easy; you'll hardly notice it
50 – 60 yrs = Good exercise; it'll raise your heart rate
60 – 70 yrs = Taxing; you'll know you've done it
Over 70 yrs = Quite challenging