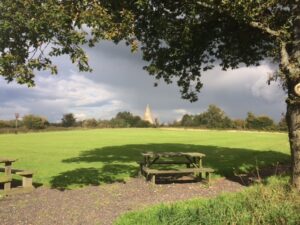 The Dallington Recreation Ground (DRG),  also known as the Sugar Loaf Field, is a valued community asset. Some years ago it was established as a registered charity (No. 305203) "in the interests of social welfare, to improve the conditions of life for the inhabitants [of Dallington] without distinction of political religious or other opinions by the provision and maintenance of a recreation ground."
Residents are free to enjoy the field and use the picnic tables at any time. Please show consideration for the environment and other users, by leaving the field as you found it and removing your own rubbish.  Dog walkers should use a plastic bag to collect any waste and take it away for safe disposal.
The calendar below will show dates and times when the field and/or pavilion have been booked  for community or private events (which should not prevent access for other residents wishing to walk around the outer edge of the field). Please note the calendar may not yet include some forthcoming or provisional bookings. The Parish Council is  the sole trustee of the charity, and any enquiries about the field should be made to the Parish Clerk,  Irene Marchant. Telephone: 01424 838414 Email: clerk@dallington.org.uk.